I just wanted to write a bit more about this initiative: https://aliona-kuznetsova-photography.myshopify.com/products/kyiv-2022-postcard-set-medical-tourniquet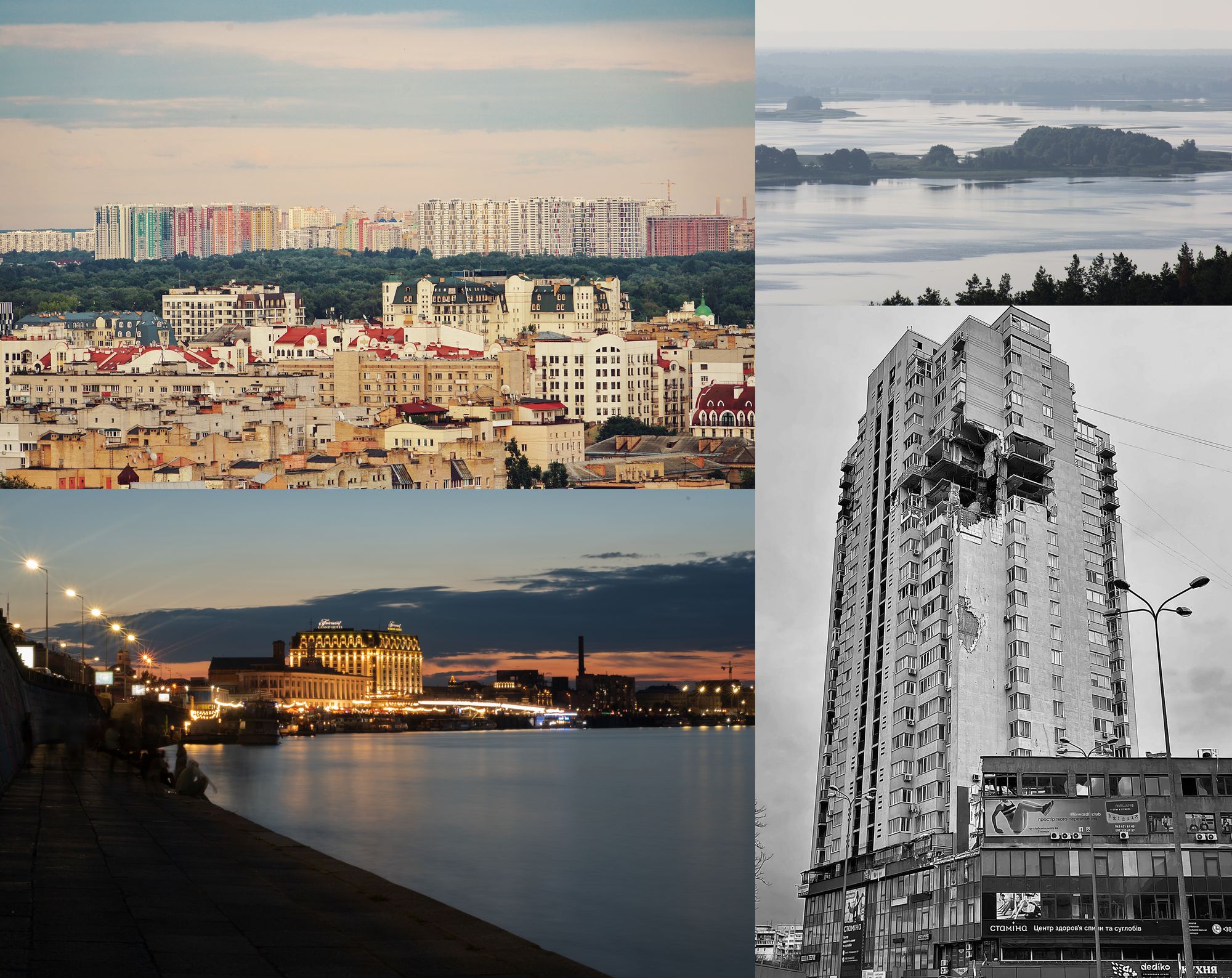 Where are the pictures from
As some of you know, I have led a group of photographers in Kyiv since 2019. Initially, the idea was to give back and teach the American way of doing business to the Ukrainian photo industry. In this project, the connection worked the other way around - photographers who are currently in Kyiv donated pictures for the cause. We also have a designer who helped us with the cover free of charge.
What is this cause
I was talking to the initiative I work with https://www.facebook.com/cf.volunteer.movement/
and they indicated that medical equipment is continued to be needed and not available in Ukraine itself. So I asked to name smaller pieces that we can buy in portions (more on this later) and keep them coming. They named medical tourniquets and indicated two quality brands for them, from which I picked this one: https://www.narescue.com/combat-application-tourniquet-c-a-t.html, and you see them in the photos.

I think medical help will have the biggest impact because a $30 piece of equipment can save a life. The idea to add a personal note is more for support - to let the people know that all the world is standing with them.
More on the process
To cut the cost without compromising the quality, I am doing most of the work by hand - printing, cutting, packing, and sending are in the pictures below. Tourniquets will be sent to a person in Volunteer Movement every month and added by them to the next shipment.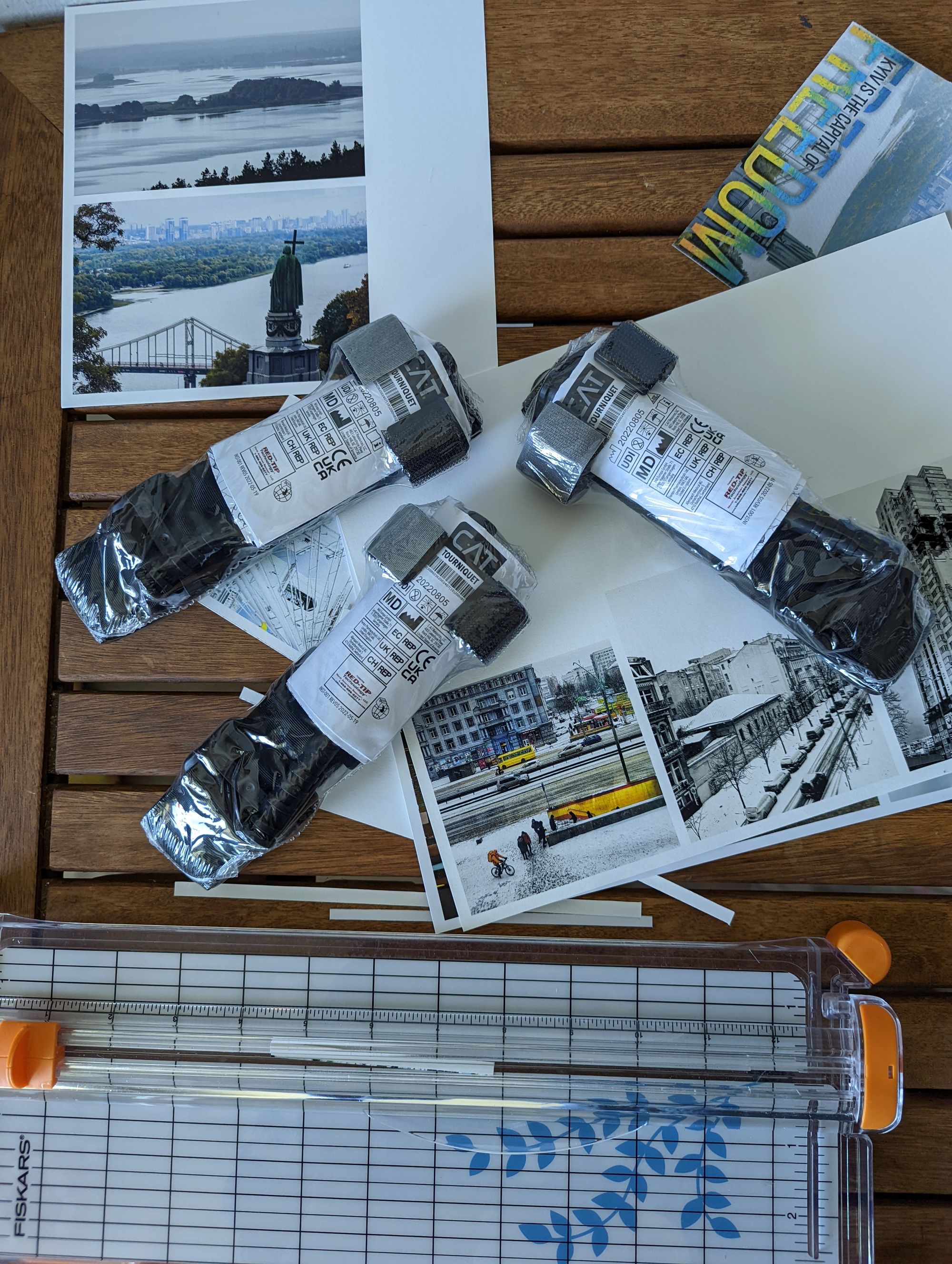 Other questions (keep them coming)
Why only now? There are two reasons:
Photographers in Ukraine were in shock and spread all over the country for the first few months, it was not possible to gather the initiative.
Between coordinating the evac for our families, working as a connector for friends, trip to Eastern Europe, raising money in the gallery and by postcards, courses for relocated teenagers, and intensive for retouch so people in Ukraine can make money remotely, it's only now that I have time to take on this new responsibility.
Why not Kickstarter? I  have an experience with two successful Kickstarter campaigns, so this platform came to mind for this cause too. But to make and run a successful campaign and then wait for the money to come in will take 3-4 months. And the help is needed now.
In Summary
Since February, I have learned a lot about myself, my country of birth, and about you guys. My first reaction to this war was "all is lost" and ''there is nothing to be done." My instinct was to let go and slip into a deep depression. But then I understood that a) no depression will be equal to the suffering that people go through in occupation b) my unhappiness helps no one.
So I started to help first just to do something. I know I am not a diplomat, military person, doctor, or even skilled hacker - on the big scale of things, I can't do anything. I am not even a strong person who can carry a lot of this burden. But if there are hundreds of us, and every person carries a bit, we can make the change - I believe that because I see that. So with this cause or in another manner, please, let's stand with Ukraine. Not only to help people to defend their homes but also not let russism spread further west.
Our link again: https://aliona-kuznetsova-photography.myshopify.com/products/kyiv-2022-postcard-set-medical-tourniquet