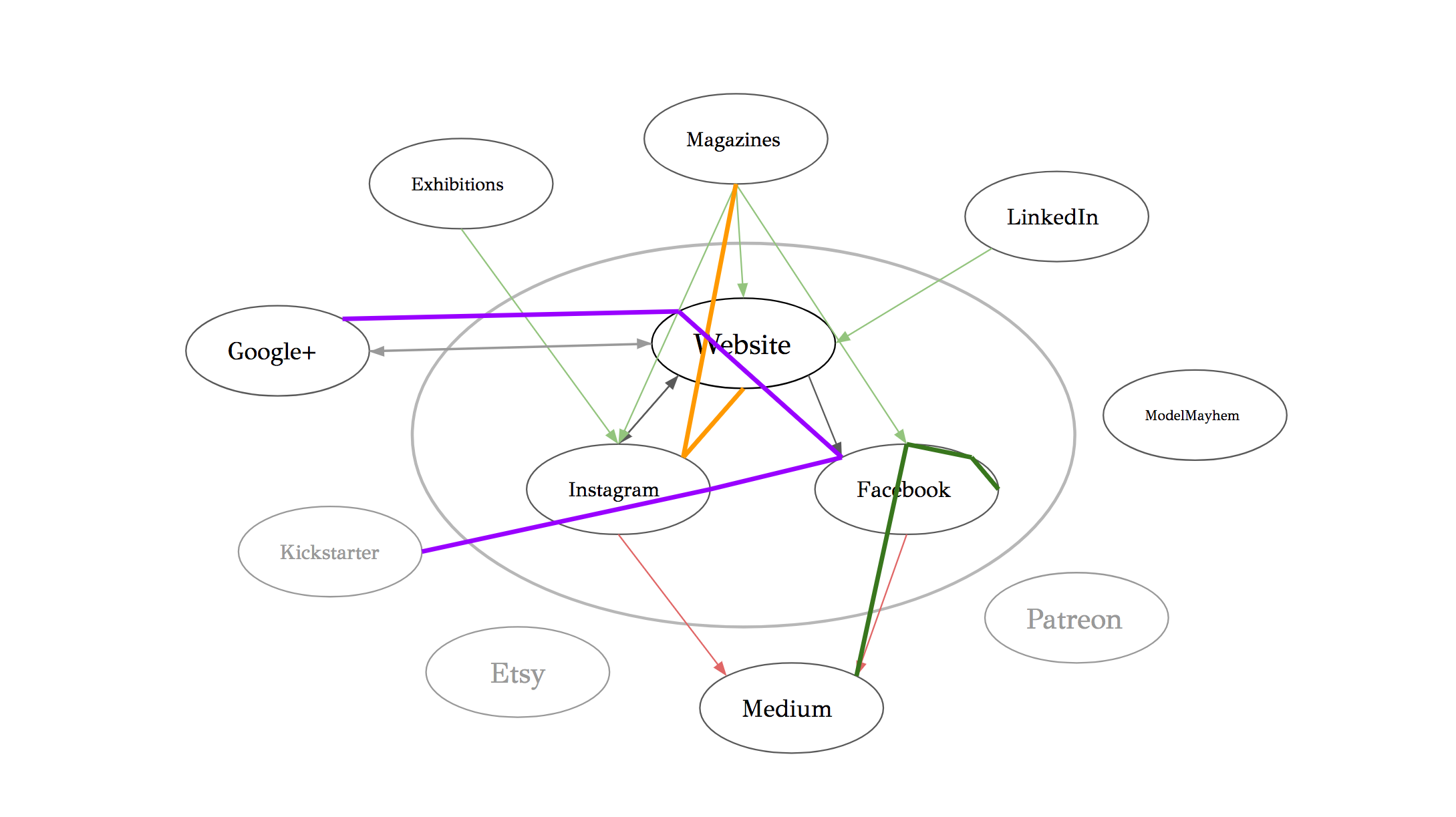 Here is our old map with some new lines. These lines represent 3 different journeys. All three are real (reported by viewers themselves), but I also like to think that they are representative to some degree.
Orange is a small boutiques (owner+assistant) representing luxury women's wear in Geneva. Brands that they represent send them a lot of pictures of good quality, but featuring young models only. Most of boutique's clientele are women 40+ y.o. so for ads on social media and in local magazines the owner needs some pictures that would be high end lifestyle and would feature older model. The owner saw one of my editorials on local magazine's website and clicked on me to go to my Instagram account. Seeing my body of work there, she clicked on my website to contact me.
Green is a photographer from Kiev. He saw my photo of the model he would like to work with and clicked on my link on photo's credits. After arriving on my page he scrolled a bit, liked couple of photos and then clicked on medium link (because I feature in a lot now). He arrived on the blog, which appeared to be in English and left as he is not comfortable reading in foreign language.
Purple follows my work for a long time now. He found my blog some years ago in one of the catalogs on Google+, from there he discovered my website, followed me on Instagram and fb and even supported my Kickstarter campaign. Even though we never spoke at length he notices when something good or bad happens, lets me know if one of the pictures felt especially strong or too weak and occasionally asks for advice with photos of his own.
Ok, I think it concludes this short social media series. Happy viewer-attention-hunting everyone:) As always, waiting for your question for me and (this week) for Franziska at aliona.kuz@gmail.com
NextUp: Franziska's answer about working with male vs female photographer