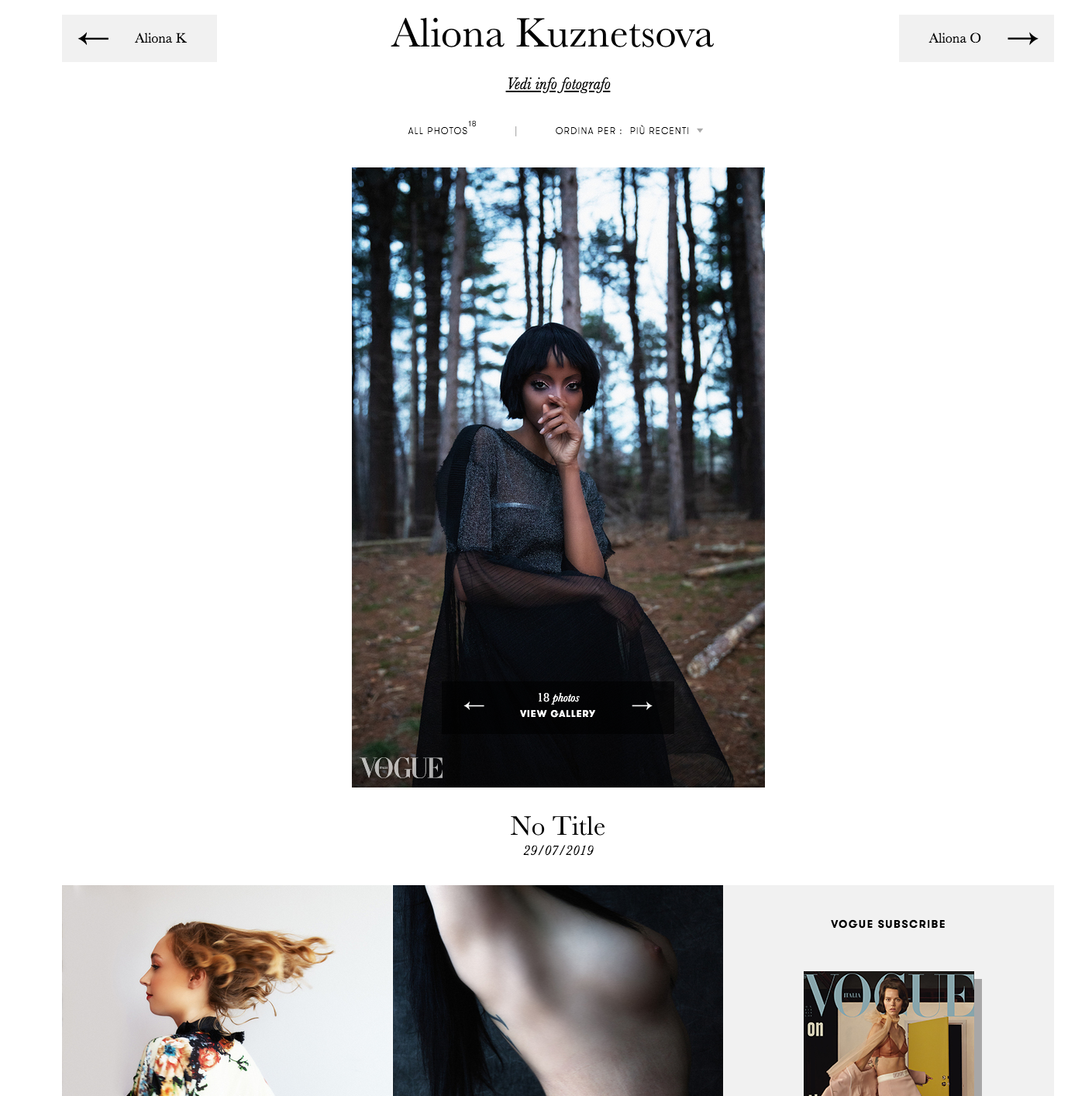 Ok, so the Kavyar has a sweet niche of mainly fashion magazines with 1k-200k followers. How about bigger magazines and also more art-oriented and experimental ones? You have to spot them yourself!
Cold Emails
Every time I look at a cool photographer or stylist (via Model Mayhem, FB groups or list of award winners) I look at their list of publications. I take magazines one by one and research them online. If eligible, I add the magazine to my database that has these columns:
- Name, website, email and contact person,
- Link to submission guidelines, keywords, desirability, number of followers,
-  Submission fee, when last contacted, accepted or reason for rejection, note.
I now have over 200 magazines in my database.
This magazines you will have to contact with a cold email. Not many of them will answer, but the ones that will (both positive and negative decisions) will provide better lead for developing relationships then Kavyar submissions.
I also recommend to add to your email that you are open to create something specifically for them - this rarely works, but when it does it can give you a cover or an interview rather then just an editorial.
Also, please don't spam the same letter to every magazine in your database. Make sure to use triple fit rule from previous post if at all possible. Don't ignore submission guidelines (if they said they don't look at attachments, it means they won't look at your attached files, send a Dropbox link or WeTransfer). Always include at least one sentence about why you like the magazine. Be specific, "I like your style and mission statement" won't cut it.
Big Guys  
There are big name magazines that prefer to have their own submission platform rather then working through Kavyar. The ones that I constantly submit to are Vogue Italia and Dark Beauty
First one has a special platform for experimental and strong photographs with simple style (= big brands are not necessary). They accept non-exclusive work and submission is free, but don't let it fool you: from 100 photographers who made an account there, maybe two or three has one or more accepted photos (I have 18 :p)
Second costs $5, also doesn't require exclusivity and has a very definite style. Little hint: if you submit for online, but they like the picture a lot, they will include it in printed version on them:)
I am sure there are more, share if you know some (I will add them to the post)
Connections!
As a photographer I like to think that I relay 90% on my work, 10% on my network, But those 10% are crucial. It doesn't mean you need to kiss someone's a$$, just be polite, responsible and transparent about your work.
I got Forbes Romania publication through a friend of a friend who happened to be a successful banker in Geneva giving an interview and in need of some pictures to go with. I got into Elle Swiss shooting a wedding of it's editor. I got into Marie Claire through a client boutique wealthy enough to have a good advertorial budget. I got to Femina (biggest Swiss fashion magazine), Flanelle and 7 Hues working with designers who already had a relationship with the magazine. All of it happened by chance, but I had enough skill for then to take chance on me;)
That's all I got guys. Again, I do some coaching for magazine submissions, if you want in, you know how to reach me: aliona.kuz@gmail.com